Tinsmiths Alley, 8A High Street, Ledbury, Herefordshire, HR8 1DS
To fill Tinsmiths with quality, with the beautiful, useful and seldom found is our daily pursuit
Situated in the Herefordshire market town of Ledbury, Tinsmiths opened in 2004 with the aim of presenting a carefully curated range of timeless fabrics, lighting and homeware.
Tucked up a Dickensian alleyway, Tinsmiths idiosyncratic shop buildings always have much to tempt and interest. Our own passion for hand woven and printed textiles, artisan ceramics, the well designed and handmade is always evident in displays of wares in the two shop buildings.
We have been told by our customers that a visit to our shop provides 'a tonic for the senses'. We hope an online visit here proves equally inspiring.
Tinsmiths new shop
As with so many businesses the pandemic has brought changes in how we operate. At Tinsmiths this has meant that we have changed our shop.
Our shop is no longer up the alleyway, but is now on the High Street. Our beautiful showroom and the Old Tinsmiths Building up the alleyway are currently being used to service the online orders. We have socially distanced all who work for Tinsmiths but this has necessarily required all of this space to keep our small team safe.
We very much hope that in the coming months and years these spaces will once again be enjoyed by visitors to Tinsmiths. In the mean time we have a fantastic new shop on the High Street which is full of treasures all beautifully displayed.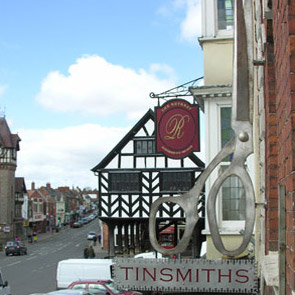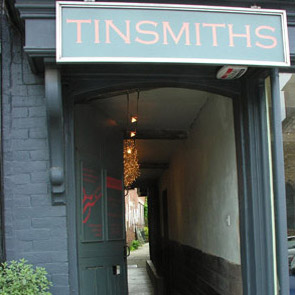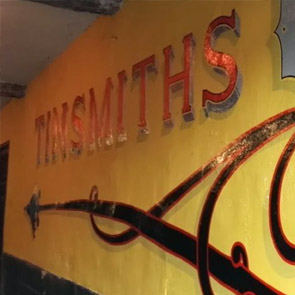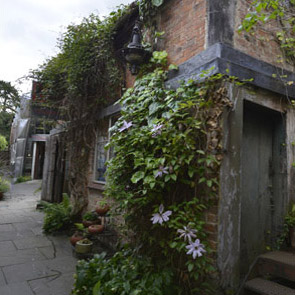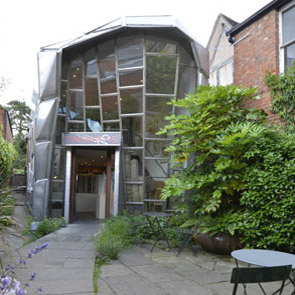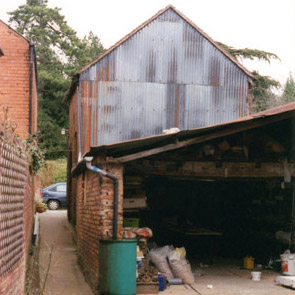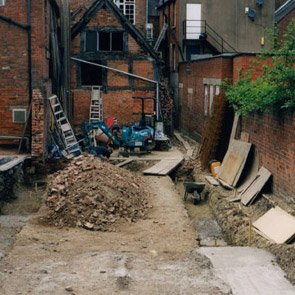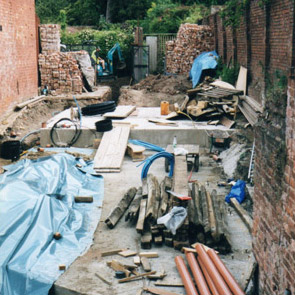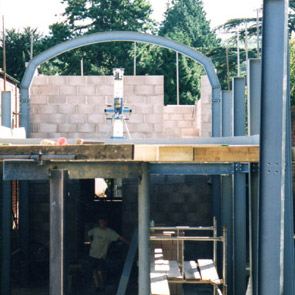 8 High Street, Ledbury
8 High Street provides a home for both Tinsmiths and its proprietors Phoebe and Alex Clive. The alleyway leading to the shop progresses from the bustle of the High Street to a most unexpected courtyard with the two very different Tinsmiths shop buildings on either side.
The first building that you come to is a 16th century timber framed former Tinsmiths workshop. This building had been rather unloved since its last commercial use in the 1920's and required very sensitive but complete renovation before Tinsmiths moved in.
The second building across the courtyard is a complete departure, designed by and built by Alex Clive, the building's defining feature is its stainless steel shell or exoskeleton.
The glass façade, incorporating the main entrance, reflects the complex shapes that the surrounding timber framed buildings have settled to – no true verticals and regular patterns stretched and bent to new forms. The building, regardless of all the lovely furniture, lighting, textiles and artworks it holds, is well worth a visit by anyone with an interest in architecture. For more details see Jonathan Glancy's article for the Guardian, The Miracle of Ledbury.